SHOP NOW
SHOP NOW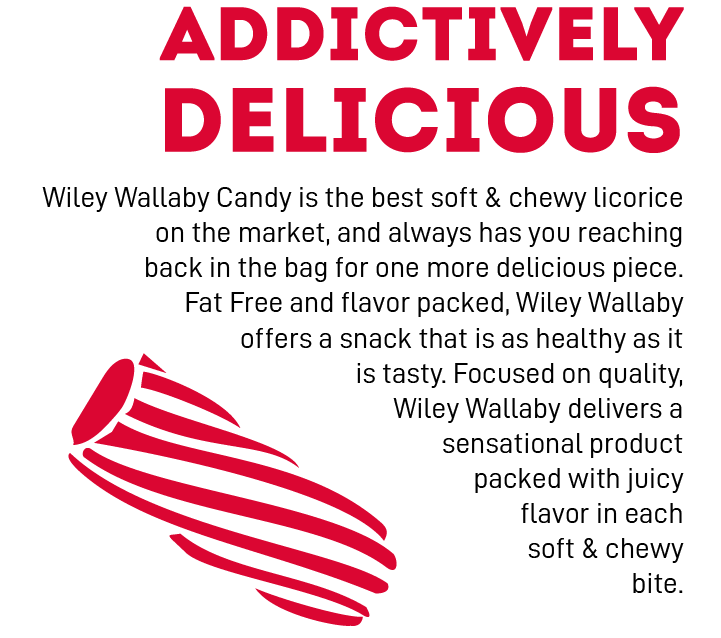 We hope you catch this giveaway! We want to pass you some Wiley Wallaby so you are ready to watch your favorite team! 🏈

3 people will be selected to win a bag of Huckleberry, Green Apple, and Classic Red Wiley Licorice! To enter: comment below with the name of your favorite football team. The 3 winners will be selected on Thursday, November 19th! This giveaway is not sponsored or endorsed by Facebook! Good luck Fans! 🏈 ... See MoreSee Less
My favorite football team is the Pittsburgh Steelers. 9-0 baby !!! Thank you very much for this opportunity. #wileywallaby yum
Vikings and Kirk finally got that Monday Night win 💜💛🏈
Bait and switch here. I won the last give away and they wanted my credit card number which was used for a membership to funlagoon. Big hassle and no licorice ☹️. Be cautious.
My favorite football team is the Indianapolis Colts. The have always been my favorite, even though they haven't been doing good in awhile, but they are still my favorite. I would love to win this. Thank you for the opportunity to win this amazing prize. Christy Carter
Arizona Cardinals. Wiley Wallaby has the Best Licorice
My favorite football team is the Philadelphia Eagles! Fly Eagles Fly! 🦅🏈💚
My favorite NFL team is the Las Vegas RAIDERS!! I'd love to win this so I'd have something good to snack on while watching their games!! #raidernation
Green bay packers 1st in nfc north. Also love green apple.
My favorite football team is New Orleans Saints. "Who That's"
I will try these they look delicious where to purchase them at.♥️
Yum, my favorite is black but all of these are tasty. Team i select is the Seahawks. 🏈
Sadly I am a bengals fan, I need lots of comfort snacks!!!
Atlanta Falcons are my #1!! I'd love to try the green apple, sounds yummy!!🎉🎉
HUGE football fan!!! Detroit Lions desire the weekly disappointment..always loyal to my team!!
Detroit Lions really need sweets love to try green apple.
I would love to try the Huckleberry !
Go Chiefs! Love the red licorice! Have never seen the purple and green. Hope I win to be able to taste them!
Colts all the way. Have never seen your licorice But would love to try
Love these. Dallas cowboys
The green apple 🍏 are my faves
I don't have a favorite football team, but the sour apple liquorice sure did catch my attention.
Thanks for the chance to win! I'm a Steelers fan all the way! 💕
Umm I don't have a team I just enjoy watching the super bowl to see what team gets the ring and bragging rights 😂 but I love your green apple candy 😍
Load more