SHOP NOW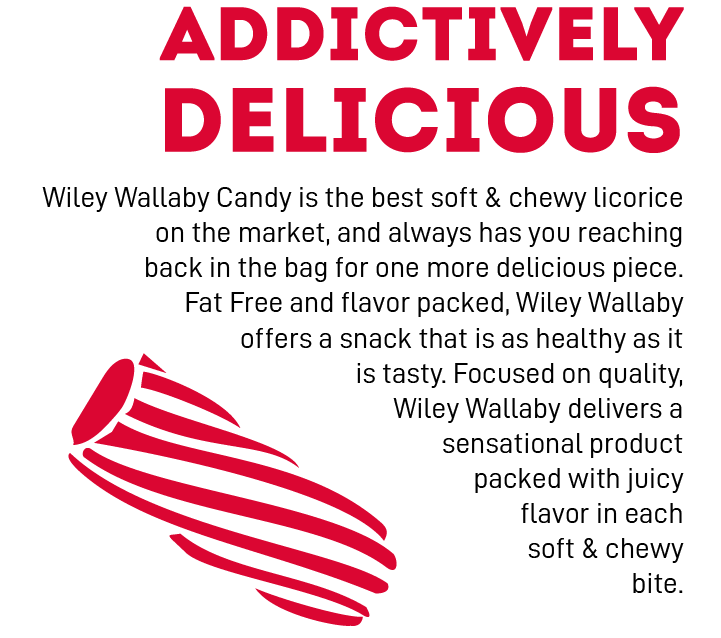 I would love 😍🍉🍉 to try the watermelon first, then the 🍋🍋😍 Lemmon & then the green qpple🍏 but I know they are probably all awsome and yummy!
I love these things so much : watermelon, green apple, lemon! Love them all!!! Please make more of these FAST as they are scarce in Minneapolis these days!
Never had them, but they look good. Green apple would probably ve my favorite.
Green Apple, then Watermelon followed by Lemon. Although I'm sure they're all delicious!! Thanks for the opportunity 🙂
Never had them sounds delicious, love green apple then lemon.
They're all too good to pick one, but green apple, watermelon, lemon in that order if I gotta choose!
I've never had them either, yep green apple would be my favorite too! 🍏
Watermelon 🍉 and Green Apple 🍏 together 😏
Green Apple! Would love to share some #wileywallabylicorice with my friends at work! 🍉🍏🍋
Why green apple of course!!!😉 I actually quit smoking cigarettes thanks to eating your companies delicious candy instead...😀
Watermelon!!! 🍉 But honestly all 3 are great together!
Watermelon 🍉😀 these sound delicious can't wait to find these here in Ohio 🥰🤞😋
I love them all❤thank you so for the chance to win! I'd love to win
Green apple. Would love to try these
Watermelon and lemon together is so delicious!
oh thats so hard I think it would be a tie between watermelon and green apple I think the combo would be yummy
Can't wait to try these! I'd go with watermelon first.
Green Apple 🙂 Love Love Love
I'd grab Watermelon first, awesome giveaway!! ❤️💛💚
I would love to try Watermelon
Watermelon sounds amazing
Watermelon 🍉 Green apple 🍏 Lemon 🍋 Thank you for the opportunity 😊
Load more
Wiley Wallaby ©2020, All Rights Reserved